Conceria Stefania welcomes Cav. René Caovilla
The feeling you have is the same as when you meet a great artist. His creations for decades have been able to excite and seduce women all over the world, with the style and the uniqueness worthy of a work of art: today Conceria Stefania welcomes Cav. René Ferdinando Caovilla, stylist, entrepreneur and creator of the homonymous brand, the most longevous in the footwear industry.
With the class and sobriety that distinguish the great caracters, the creator of the "scarpe gioiello" wanted to visit us today, taking the opportunity to view the collection of shoes by Andrea Pfister, kept in the spaces of our museum. Expecially in these occasions emerge the vision that binds us in a particular way to Cav. René Caovilla: the heartfelt attachment to the origins, the contribution made to one's own land, the ever-watchful look at the past and the tradition are aspects of the work that we fully share. Tradition that we want to keep alive thanks to our historical collections and, above all, to the craftsmanship of our production; tradition that the René Caovilla makes revive in every creation that contains the heritage of Venice, its history , its magic, its unique beauty.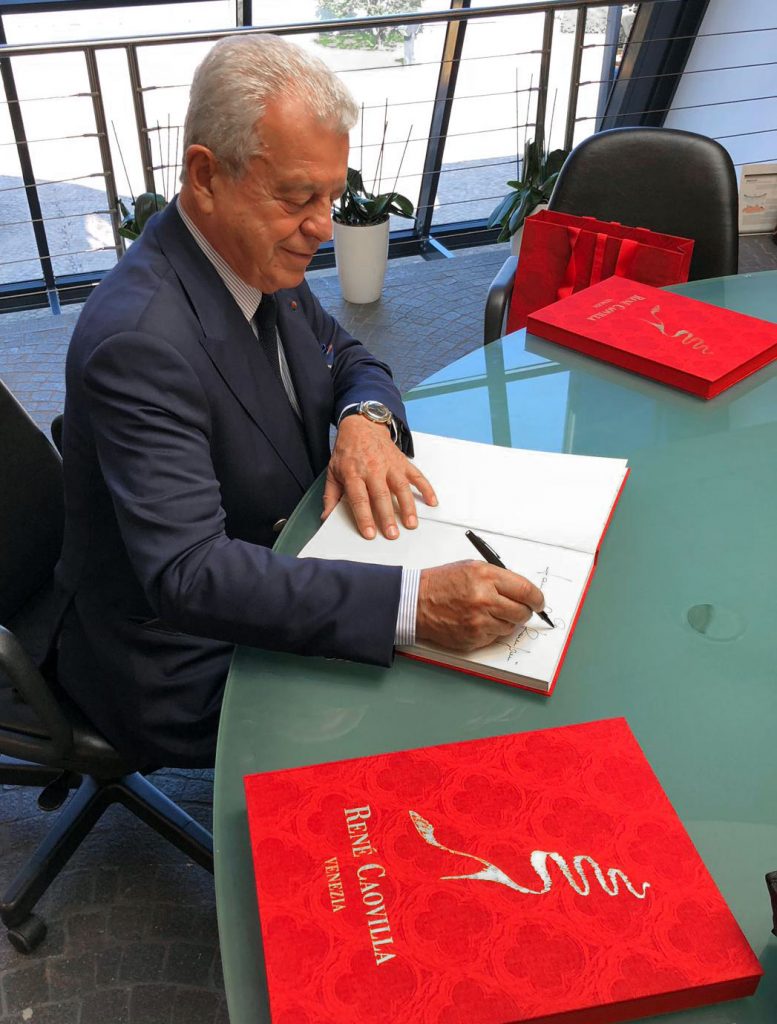 "A pair of shoes take on the average a couple of day of work", say some brief notes on the web page of the Venetian brand, which continues defining the shoes-gem "objects created with the same devotion that deserves a work of art ". This dedication, this attachment to the craftmanship, the pursuit of perfection and a philosophy behind the brand makes us particularly proud of our decades of collaboration with this luxury market giant. The fact that every component that contributes to the final realization is chosen according to criteria of excellence, is a further confirmation of the quality of our leather and a reason of satisfaction for all our staff.
We thank Cav. René Caovilla for having been such a pleasant guest, sure that we will have a chance to run a long way together.
If you want to enter Renè Caovilla's world and have a taste of his precious creations, please visit  web site: www.renecaovilla.com
Conceria Stefania, 2018 October, 4

---
For more nformation on Andrea Pfister's collection, please follow our facebook page:
Seguici e condivi sui social: